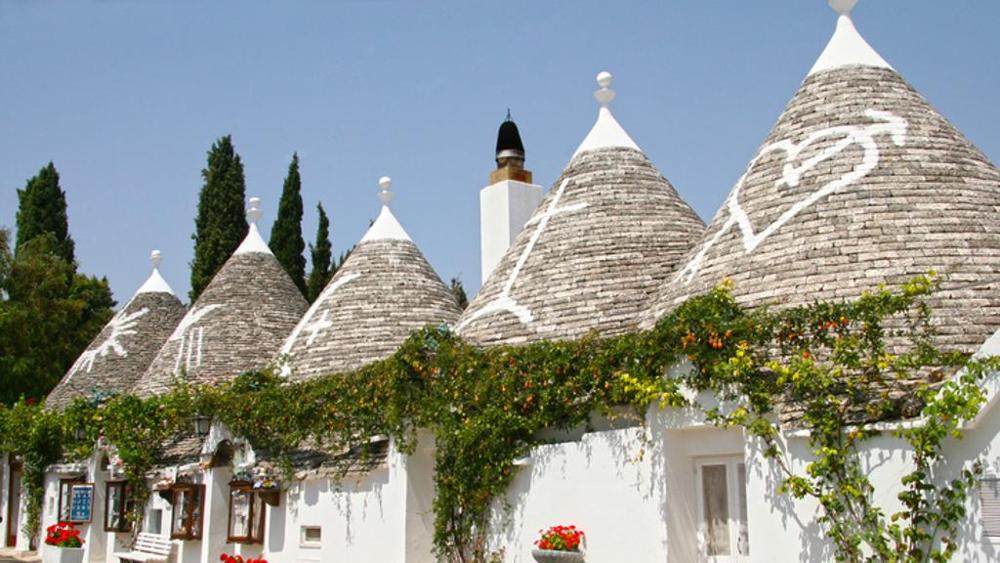 On

01/06/2018

In News
Tags:
Nessun commento
Alberobello and its trulli
Alberobello, in Puglia, with its Trulli is one of the 53 Italian sites included by Unesco in the World Heritage List.
The name derives from the late Greek τρούλος, meaning "dome" and indicates ancient conical dry stone constructions of prehistoric origin. The stone used for the buildings was obtained from the limestone rocks of the Murge plateau.
The Trulli, mainly present in the Itria Valley, located between the provinces of Brindisi, Bari and Taranto, are still used today as homes and constitute a brilliant and long-lived example of spontaneous architecture.
Alberobello, a town in the Bari hinterland, certainly represents the capital of the Trulli: the historic center is entirely made up of these particular pyramid-shaped buildings that make it unique in the world.
According to some studies, the trulli of Alberobello date back to the mid-fourteenth century; in fact, at the time it was common to tear down and rebuild damaged buildings, rather than repair them.
The dry construction, without mortar, seems to have been imposed on peasants in the 15th century by the Counts of Conversano, to escape an edict of the Kingdom of Naples which imposed taxes on every new urban settlement. These buildings were therefore precarious constructions, easy to demolish and not taxable.
In truth, the trulli are anything but precarious: the internal structure, although devoid of supporting and connecting elements, in fact possesses an extraordinary static capacity.
The plan of the trullo is approximately circular; the heavy lime masonry is grafted onto the natural rock base.
Generally the trulli are modular units: the interiors are distributed around the central compartment. The thickness of the walls and the scarce presence of windows ensure an optimal thermal balance: warmth in winter and cool in summer.
The roof is composed of a pseudo-dome of horizontal limestone slabs positioned in increasingly smaller concentric series – the so-called "chianche" (inside) and the thinner "chiancarelle" (outside).
The keystone is very important, often decorated with esoteric, spiritual or propitiatory motifs. Ingenious is the presence of a ledge protruding from the roof used for the collection of rainwater in special cisterns.
The trulli are a unique example of ancient construction that survives and is still used today. Visiting the beautiful Alberobello is like taking a trip to a timeless country.
If you liked this article and would like more info on these locations contact us and we will be happy to create your customized trip.