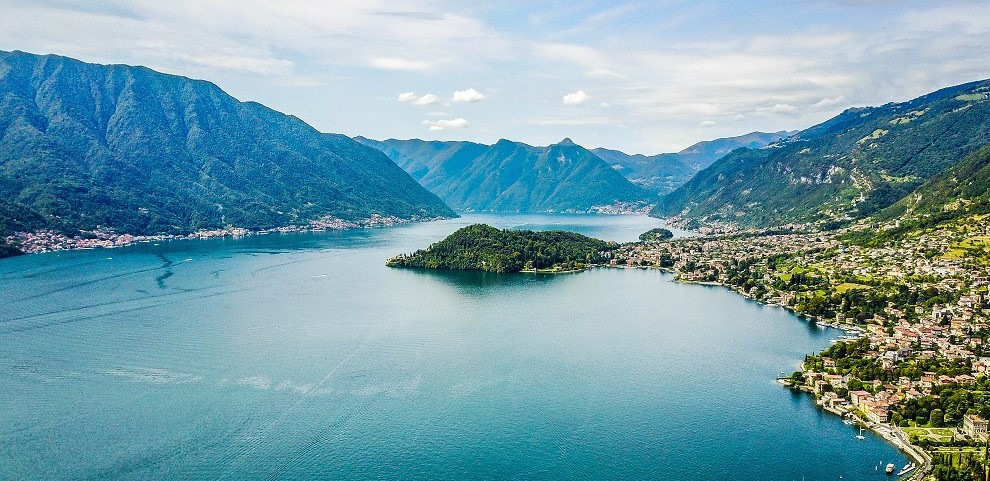 Como Lake
The magnificent scenery of Lake Como (also known as Lake Lario) has enchanted artists and travelers for centuries: from French novelist Flaubert to musicians of the caliber of Gioacchino Rossini, Giuseppe Verdi, and Vincenzo Bellini; it was here that he composed his opera Norma.
The Lake was also the birthplace of illustrious personages such as Italian physicist Alessandro Volta, inventor of the first electric generator, the Voltaic Pile, now on view in the Physics Museum of Rome's Sapienza University.
Lake Como continues to attract members of the international jet-set and celebrities that appreciate the evocative beauty of the Lake and its surroundings.
Lake Como is located approximately 31 miles from Milan, between the Provinces of Como and Lecco, and it is the third-largest Italian lake, after Garda and Maggiore. It is also the deepest, at 1,345 feet.
The Lake (one of Lombardy's several incomparable lakes) is of a characteristic upside-down Y-form. The town of Como is situated on its southwestern arm, Lecco on the southeastern arm, and Colico on that northern.
From the Lake's shores, one can enjoy multiple, fascinating views: suggestive borgoes, splendid villas and lush gardens await visitors in search of a little charm and relaxation, or a little culture and contact with nature.
In Como, tiny city from which the Lake's name evidently derives, merits a visit particularly for its Educational Silk Museum, where visitors can learn about the area's traditional textiles production.
Breathtaking villas, one after the other, encircle the lake, a resort destination of the nobles of Lombardy since the 16th Century.
Como is also considered the land of Italian artistic and architectonic rationalism; thus one will find exemplars of modern European architecture – the Novocomum, the Giuliani Frigerio House, the Monument of the Fallen, and the former Casa del Fascio – all the work of Italian architect Giuseppe Terragni.
Cernobbio is the site of the Villa d'Este (1600s), location in Alfred Hitchcock's celebrated film The Pleasure Garden; and the celebrated Villa Erba, one of the most important Italian lake villas from the 1800s – today it is an internationally-known convention and expository complex.
Lying to the north is Ossuccio, beloved for its spectacular Isola Comacina, the Lake's only island and, given the Sacro Monte di Ossuccio, also recognized as a UNESCO World Heritage Site (2003).
In the nearby Comunes of Moltrasio and Lenno, Passalacqua and Villa Balbianello (used in films such as Star Wars: Episode II and Casino Royale) are important touristic attractions.
Along the coast is Tremezzo, famous for its Villa Carlotta, with terrace gardens and a museum boasting works by Canova, Thorvaldsen, and Hayez.
Where the Lake's three arms meet, Bellagio – of elegant, aristocratic villas, including Villa Serbelloni and Villa Melzi – rises. Villa Melzi is also much sought-after for its botanical park.
South of Bellagio, then, is Lecco. Here, a visit to Villa Manzoni, seat of the Manzoni Museum, is a must; it is also a departure point for a Promessi Sposi itinerary – that is, a tour that traces Manzoni's novel The Betrothed, an Italian classic. In the north, rather, one can visit antique villages: Varenna, Bellano and Colico, home to the Abbey of Piona.
The significant cultural-historic aspect of Lake Como can fuse with active athleticisim under the sky and in the open-air, and the Lake certainly garners its fair share of active vacationers.
Summer permits water-sports enthusiasts to relish wind-surfing, canoeing, sailing, water-skiing, jet-skiing and kite-surfing.
And sports at a bit higher altitude (air sports, i.e. hang gliding, paragliding, and gliding) allow for privileged panoramas over this generous Lake.
Neither are mountain lovers at a loss, for they can climb, trek, mountain-bike, ride horses, and take other excursions.
As for golfers, seven internationally-known courses might make choosing a bit difficult.
For those arriving in wintertime, ski districts – e.g. Piani di Bobbio and Pian delle Betulle – offer miles of highly-frequented slopes and numerous courses for cross-country skiing, Alpine skiing and snowshoeing.
Foodies and gourmands will easily find their niche as well, and can enjoy exploring the area's unique products and flavors: think risotto and perch filets, the prized olive oil, innumerable vegetables (the delicious asparagus of Rogaro and Drezzo stand out) and, without a doubt, many a reputed fish-based platter, in particular the missoltino (prepared with salted, dried and flattened Alosa agone fish marinated with vinegar and oil).
If you liked this article and would like more info on these locations contact us and we will be happy to create your customized trip.